Abschlussstatement
Originaltext: https://reclaimthepower.org.uk/uncategorized/update-mass-blockade-of-coal-mine-ends-without-arrests/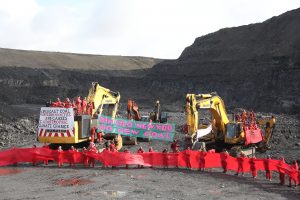 Nach 12 Stunden, ist die massenhafte Besetzung und Blockade durch Reclaim the Power des größten Kohletagebau in UK – Ffos-y-fran – zu Ende gegangen, und zwar ohne Verhaftungen.
Mehr als 300 Personen haben teilgenommen, dadurch wurde es die größte Massenaktion je in einer britischen Kohlenmine. Die Blockade ist der Startschuss für zwei Wochen von ähnlichen Aktionen, die alle auf große Infrastrukturen fossiler Energien in 13 Ländern weltweit abzielen.
The mass civil trespass by climate action network Reclaim the Power began at 5.30am this morning and halted work across the site. Activists donned red boilersuits and used creative props such as inflatable cubes, dragon puppets and metres-long red banners.
Hannah Smith, Teilnehmerin:
"Today we shut down the UK's largest coal mine because we must keep fossil fuels in the ground to stop catastrophic climate change.

Continuing to dig up coal is a red line for the climate that we won't allow governments and corporations to cross.

We are taking action in solidarity with the local community who have been battling Ffos-y-fran for nearly a decade, and now face the threat of a new mine next door.

Wales deserves a transition away from dirty coal, and the creation of sustainable employment in an economy that respects our planet and its inhabitants, now and in the future.

With Wales going to the polls this Thursday and the climate crisis more urgent than ever, our action sends a bold signal that we must end coal now."
Reclaim the Power have spent the last four days at an 'End Coal Now' camp on common land near Ffos-y-fran. Since Saturday, they have organised events with residents, unions, councillors and Assembly candidates to highlight the potential for thousands of sustainable jobs in clean energy industries, rather than the opencast mining that has devastated the local area.
Today's action supported a long-standing local campaign by the United Valleys Action Group, who are now resisting a proposed mine at Nant Llesg.
Die erste Pressemitteilung: https://reclaimthepower.org.uk/uncategorized/press-release-hundreds-shut-down-uks-largest-opencast-coal-mine/
Livetweets: https://twitter.com/reclaimthepower/with_replies
storify.com https://storify.com/350dotorg/reclaim-the-power-end-coal-now
Bilder: https://www.flickr.com/photos/breakfree2016/sets/72157667558968145/with/26721819261/
taz: http://www.taz.de/!5297508/